Membership & Sponsors
Membership offers a monthly subscription to our Artifacts newsletter of art-related events, festive opening receptions, special events, and discounts in our Gift Gallery.
Arts Commission members ARE the organization! We welcome you to join and be active. We do not accept payments online. Please print this form and send it along with your check to the Saginaw Arts & Enrichment Commission, 120 Ezra Rust Drive, Saginaw, MI 48601.
Sponsor & Member List
The Saginaw Arts and Enrichment Commission gratefully acknowledges the following contributors who have donated monies, services, and/or materials. We are grateful for the support of our sponsors and members for their help in encouraging the arts to thrive in our community!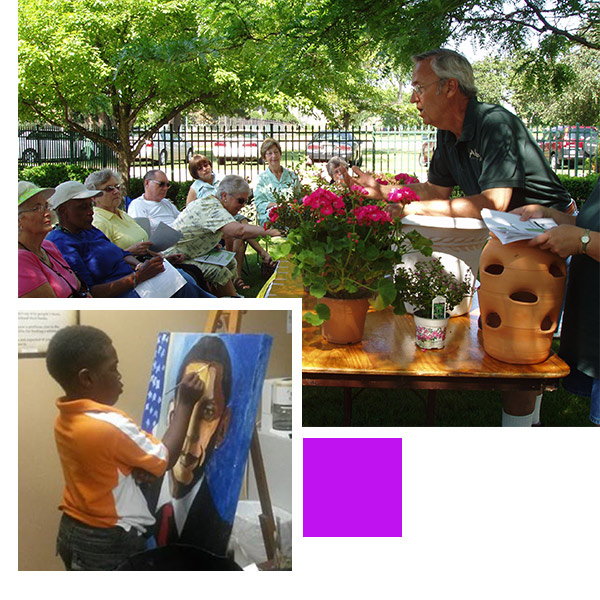 CORPORATE AND FOUNDATION SPONSORS
Maxwell K. Pribil Memorial Trust
Hemlock Semiconductor Group
Alpha Media
Michigan Council for Arts & Cultural Affairs
MacDonald Broadcasting
WNEM-TV5
Absolute! Building Maintenance
Catholic Federal Credit Union
The Jury Foundation
National Endowment for the Arts
Nexteer Automotive
Target
Harvey Randall Wickes Foundation
Bronner's CHRISTmas Wonderland
Covenant HealthCare
Dornbos Printing Impressions
Garber Automotive Group
Glastender, Inc.
Hausbeck Pickle Company
Saginaw Valley State University
St. Mary's of Michigan
Wildfire Credit Union
W.L. Case & Company
Abele Greenhouse & Garden Center
Bierlein Companies, Inc.
Braun Kendrick
Chemical Bank
Consumers Energy
Easy Printing Center
Independent Bank
K. Lucille & James V. Martineau Family Fund
Morley Companies, Inc.
MLive Media Group/The Saginaw News
Saginaw Valley Master Gardeners
Tri-Star Trust Bank
INDIVIDUAL SPONSORS
Ruth Ann Knapp
John & Barbara Roberts
Ed & Suzanne Skrelunas
Dave & Kathy Abbs
David & Audrey Lewis
Suzanne Mason
Leslie & Marion Tincknell
Jody Farley
Letitia Little
Charles & Judy Stuart
MEMBERS
Alice Baldwin
Joel & Katie Beltran
Patricia Bierlein
Barbara Biron
Marsha & James Braun
Tamara Dangelo
Tom & Ginny Darnell
Michael Elliott
Bill & Dee Ewald
Dawn Goodrow & Bob Hillier
Michael & Ellyn Grohman
Robert Herbin
Melanie Hollman
Carrie & Mike Holzhei
Luciana Horak
Michael & Sarah Jury
Kristin & Phil Karwat
Michael Keenan, DeGroat Keenan Real Estate
Representative Tim Kelly
Mike & Elizabeth Kenny
C.G. & Pam King
Sarah LaPierre
Bridget Looby Staffileno
Bryan Latimer
Janet Martineau
Addison Monfils
William E. Mason DDS MS
Dr. & Mrs. Charles Mueller
Robert & Jean Richardson
Thelma Ruffin
Saginaires Youth Organization
Thomas Trombley
Mike Vaneck & Corrie Okema
Cathleen Veverka
Wanigas Credit Union
Pat Blakeley
Patricia Bourdow
Greg & Helayne Brown
Carolyn Cody
Janet Crane
Tom & Culli Damuth
Joseph & Barbara Day
Janet Dwan
Marjorie & Ernest Flegenheimer
Todd & Lumpeny Hall
Norman Harrison & Toni Davis-Harrison
Mrs. Thomas Harvey
Diane Herman
Paula Holevac
Roberta M. Morey
Arlene Mossner
Mark Oberschmidt
Dr. Carlos & Jean Ramet
Saginaw Culture Club
Patricia Shaheen
Beverly Spence
Herb & Kathi Spence
Christopher & Maria Sutorik
Jill & Richard Vary
David Wilkins
Judith Andersen
Rosalind Berlin
Marianne Bird
Julie Brown
Reid Calcott, DDS
Don & Doris Deford
Frank Drinan
Megan Farrell
Linda Grindahl
Mary Johnson
Nancy Kelly
Lenny & Jodi LeFevre
Judy Lynch
Jeanne Mallak
A.D. & Shirley McGregor
Yoko & Gene Mossner
Walter & Elizabeth Nagel
Paul & Sally Purcell
Annie Ransford
Elinor & Harold Saunders
Bruce & Karyl Scorsone
Patricia Shek
Burris & Kathy Smith
Shelly Sprygada
George & Jan Stewart
John & Mary Stewart
Laura Weiss
Phoebe Wendler
Patricia Yockey
Richard & Mair Alsgaard
June & Charles Anderson
Jackie Anjakos
Ruth Averill
Lou Budd
Charles & Susan Burda
D.J. Carlyon
Rosemary Clement
Olympia DeAgostino
Jan Faerber
Anonymous
Jim Frost
Dorte Glick
Rick Goedert
Stephen & Laurie Grzesiak
Enid Hausding
Judy Jackson
Judy Johnson
Carolyn Kleb
Diane Kloc
Gail Kinsler
Gayle Koehler
Paulette Lenk
Joan & Patrick McCoy
Doris Miles
James Mitchell
Jennett Mooney
William & Marsha Ostler
Lois Peterson
Annette Pierce
Charlotte Pressprich
Ellen Redfield
Mary Roberts
Leo Romo
Arlene Schaeff
Annabelle Seymour
Roger Spann
Betty Van Ochten
Mary Ellen Vaydik
Jan Wegner
Mort & Judy Weldy
IN-KIND SPONSORS
Abele Greenhouse & Garden Center
Absolute! Building Maintenance
Catholic Federal Credit Union
City of Saginaw
Covenant Healthcare
Dawn of a New Day Coffeehouse
Dornbos Printing Impressions
Hausbeck Pickle Company
Maul Lawn Services
The Maytag Store
Saginaw Valley Flower Exchange
Savoy Bar & Grill
St. Mary's of Michigan
The Bay 104 FM
FM Talk 100.5
Kiss 107.1 FM
The Mix 106.3
The Moose
WSGW 790
WNEM-TV5